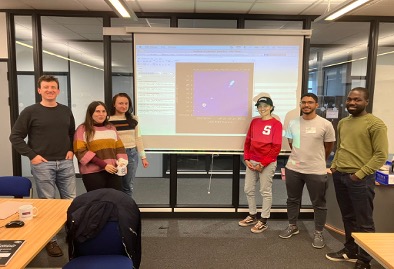 Image: © D. Williams
From the 23-25 October 2023, e-MERLIN held its first data school at Jodrell Bank Centre for Astrophysics (JBCA).
Over three days, 6 participants learned about e-MERLIN data analysis using the e-MERLIN CASA Pipeline. There was an option to "Bring your own data", i.e. to spend the time looking through, calibrating and analysing the participants' own datasets with expert help from the e-MERLIN support team.
The 6 in-person participants were able to ask questions on the pipeline in an informal format, working through their own data or a demonstration dataset. We also covered image analysis and self calibration to make the most of e-MERLIN data. 
Future versions of the data school are being planned for a hybrid format, and will include advanced topics that are being developed for the e-MERLIN pipeline, such as polarisation and widefield imaging.
All materials are available from the logistics part on the event page: https://www.e-merlin.ac.uk/eMER_data_school_2023.html