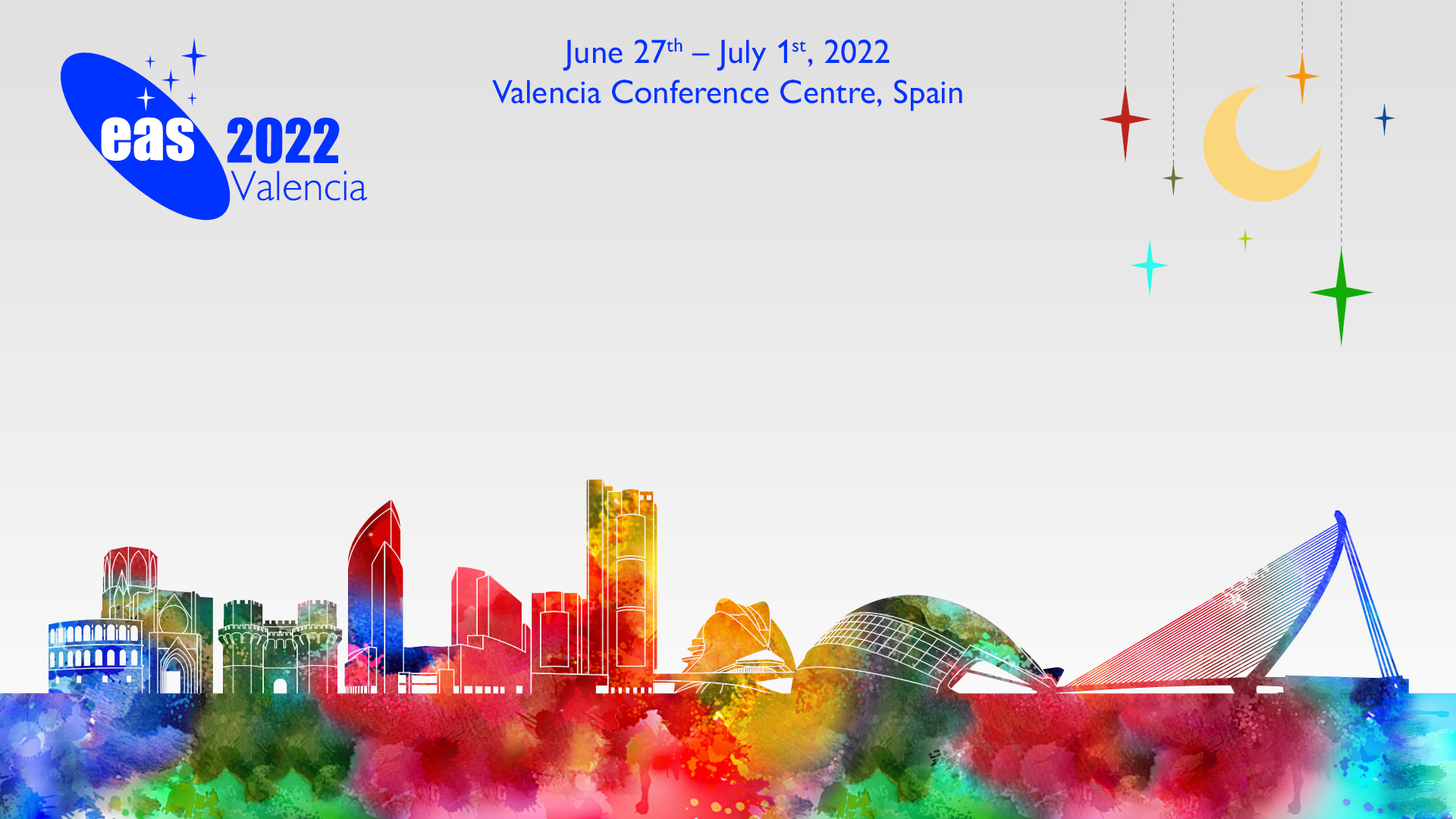 On Thursday 30 July 2022, the Special Session "European Forum of Astronomical Communities" will include several presentations about the ORP Project. The session is organised as part of the European Astronomical Society 2022 (EAS 2022) Annual Meeting, the largest conference of European astronomy, held from 27 June to 1 July 2022.
The European Forum of Astronomical Communities is a platform of the EAS to discuss the development of underrepresented astronomy communities in Europe; Support the professionalisation of astronomy communities in Europe; present current research, industrial and educational networking activities in the field of astronomy available in Europe; and explore how the European Regional Office of Astronomy for Development (E-ROAD) can support connecting European astronomy institutes to stimulate capacity building. The forum launched during the EAS Meeting in 2017 in Prague and has been held every year since then.
The ORP Project participation will comprise the following 4 presentations:
SS35a: European Forum of Astronomical Communities | 30 June 09:00 - 10:30 CEST
09:00 - 09:15 CEST - OPTICON RadioNet Pilot, a pilot at the service of the European astronomers | Stéphane Basa - Laboratoire D'astrophysique De Marseille - AMU-CNRS-CNES
Opticon RadioNet Pilot (ORP) is one of the European Commission's Transnational Access 'Pilots' under H2020. Launched in March 2021, this four-year project is the result of the merger of RadioNet and OPTICON, two well-established and successful programmes of the ground-based astronomy community. ORP brings together 37 institutions, including funding agencies, observatories, institutions developing enhanced services and key technologies, and universities, in an effort to support and develop seamless access to radio and optical telescopes and archives. The mission of the ORP is to facilitate astrophysical discoveries through a comprehensive set of research facilities by supporting a harmonised access procedure, unified data interfaces and improved services. It also aims to develop a new strategic framework for advancing European astronomy in the era of mega-installations such as ELT, SKA, CTA and the rapidly evolving field of multi-messenger and time domain astronomy, such as the identification of gravitational waves and neutrino events. During this presentation, we will describe the role of ORP within the European astronomical community, as well as its main objectives and organisation.
09:15 - 09:30 CEST - Time-domain astronomy with the network of small telescopes | Lukasz Wyrzykowski - Astronomical Observatory University Of Warsaw
Long-term, wide-scale, multi-target, multi-wavelength observations are now essential in most fields of astronomy. In order to facilitate science outcome from time-domain observations, within the Opticon RadioNet Pilot programme (ORP) we have built a virtual observatory tool, Black Hole Target and Observation Manager (BHTOM, www.bhtom.space). The tool is open to both scientists interested in collecting time-domain observations and telescope owners, willing to get involved in the time-domain observations. I will present the basic functionalities of the system and its first scientific outcomes.
SS35b: European Forum of Astronomical Communities | 30 June 11:15 - 12:45 CEST
11:15 - 11:30 CEST - How can ground-based astronomy work with the EC Frameworks | Gerry Gilmore -  Cambridge Astronomy
The EC has set up several PILOT projects to consider new ways for scientific communities to interact with EC funding opportunities. One of these is ORP, a merger of the OPTICON and RadioNet communities. We are discussing with interested groups how we might self-organise to better interface to the EC, and the essential need for non-national support for facility access. Join our discussion!
11:30 - 11:45 CEST - First year of the Opticon Radionet Pilot | Agnieszka Slowikowska Institute of Astronomy - Nicolaus Copernicus University in Toruń
During my talk, I will briefly summarize the first year of the Opticon Radionet Pilot (ORP). It includes time allocation statistics within the Trans-National Access and the Virtual Access, organized training, schools, workshops and conferences. I will also discuss progress on the development of the tool for proposal submission to Pilot facilities and services.
For more details on the session, please visit the EAS 2022 interactive programme.
European Astronomical Society 2022 Meeting
The European Astronomical Society (EAS) Annual Meeting has more than 25 years of tradition and it has imposed itself as the largest conference for European astronomy. In addition to plenary sessions and the award of prestigious prizes, the conference hosts many symposia held in parallel, as well as special sessions and meetings.
After two annual meetings in virtual format due to COVID-19, EAS 2022 is planned to be held physically in Valencia, Spain from 27 June to 1 July 2022. The conference is expected to welcome more than 1200 astrophysicists from all over Europe and even beyond.
More information about the EAS 2022 Conference can be found here.