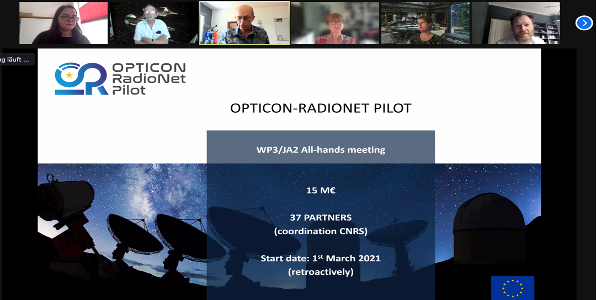 On July 15, 2021, the 'JA2 All Hands' meeting was held online. It was the first big JA2 meeting, with collaborators across all subtasks. All task leaders of the subtasks and the involved colleagues had the opportunity to meet, exchange and to report to the whole group for the first time.
JA2 Seamless Performance is an ambitious project within the ORP, with 5 subtasks :
JA2.1 – Common Proposal Submission Tool

JA2.2 – New Science Opportunities

JA2.3 – Harmonisation of data access opportunities

JA2.4 – Sharing expertise across the O-R in PILOT

JA2.5 – Preserving the Skies
A wide range of activities in different areas and a distributed team. This offers a wide range of expertise, but makes the working group fragmented, which makes communication very important. This meeting was the first step in making communication a key element: connecting the colleagues involved and introducing them to the whole of JA2.
All involved persons had the opportunity to interact and take stock of the objectives, challenges and progress of the sub-tasks. They exchanged ideas and learned what was happening in the different areas of JA2 and discovered where the interfaces and synergies lie.
A slack account for the group was set up to give all JA2 partners a communication platform to exchange ideas and development across the subtasks.
Contacts
Rob Beswick
UNIMAN
Robert.Beswick@manchester.ac.uk
Jacqueline Casado
MPIfR
radionet@mpifr.de