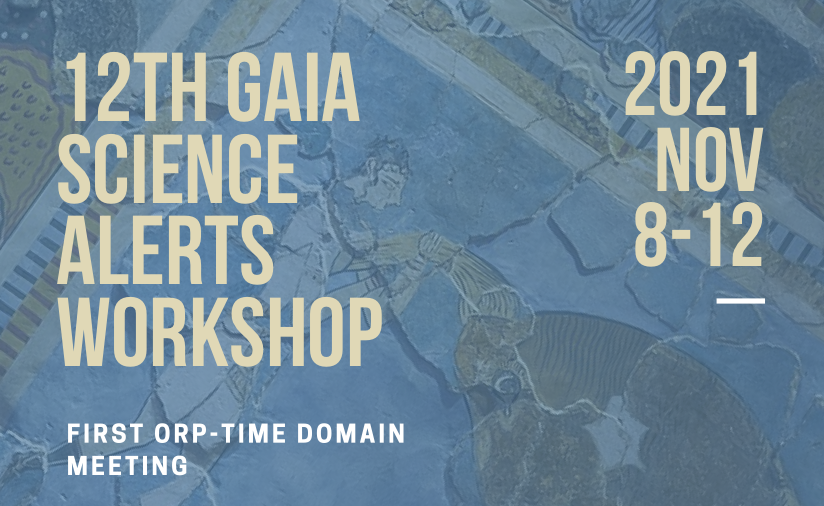 The 12th Gaia Science Alerts workshop, including the First ORP Time-Domain meeting, will be held as a hybrid event at the premises of the Institute of Astrophysics-FORTH at the island of Crete, Greece, and online on 8-12 November 2021. Deadline for registration is on 15 October 2021.
The 12th Gaia Science Alerts Workshop will be an opportunity to learn about the current state (and future plans for) Gaia and Gaia Alerts. The workshop will also explore the new possibilities offered by the H2020 Opticon Radionet (ORP) Pilot project in planning, obtaining and reducing in an efficient manner follow-up observations of transient alerts reported by other (non-GAIA) facilities.
The main goals of the workshop are:
update on the Gaia mission;

update on the improvements in the Gaia Alerts;

Gaia Alerts highlights and results;

synergies with radio within the new Opticon RadioNet Pilot (ORP) grant;

new members of the telescope network;

new photometric calibration server

organization of the follow-up;.
The organisers of the workshop would like to extend the invitation to all time-domain astronomical activities, spanning all electromagnetic spectrum from radio, through optical to X-rays, and other domains (gravitational waves, neutrino detectors). This workshop will be an opportunity for improving the coordination within time-domain astronomy and increasing the scientific output of surveys and follow-up observations in the multi-messenger era. 
Registration is open until 15 October 2021 and the registration form can be found on the Workshop website.